Tell me more about ShopBack PayLater.
Updated 4 months ago
Shopback PayLater is By Invite Only's 'buy now, pay later' partner!
ShopBack's promotions, discounts, and vouchers run independently from By Invite Only's discounts and offers.
---
How do I use Shopback Paylater?
Online
1.At checkout, select Shopback Paylater as your payment method.
2. You will be redirected to Shopback, where you will pay the first of three instalments. The next two payments will be due 30 days apart with no interest or hidden fees.
3. You may check on your payment cycle on your Shopback app as well.
In-stores
Let our friendly store team know that you would like to pay via Shopback, and they will assist you from there!
---
What is the Shopback promotion?
Promotion mechanics
All ShopBack users: 

S$10 off when you spend S$140
S$5 off when you spend S$80

Valid for Singapore orders only
Valid from 26 July 2023 to 20 September 2023
Steps to Redeem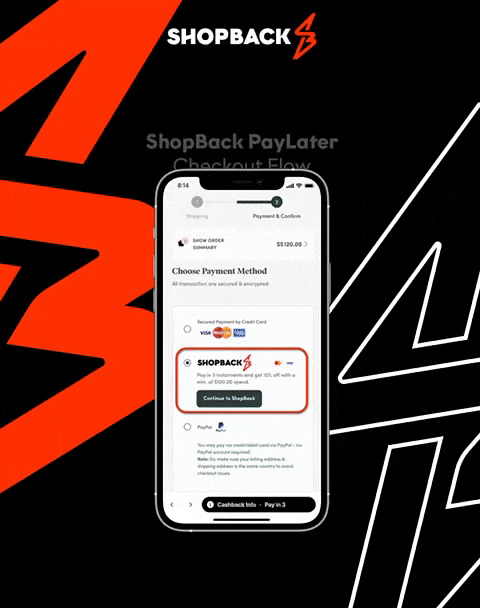 For more information on ShopBack's promotions and vouchers, here are some helpful links:
---
If I paid using ShopBack PayLater, can I cancel my order?
Yes, you can. Orders can be cancelled within 8 hours from the time of purchase.  
To make a cancellation request, 
If the request goes through, ShopBack PayLater will issue a refund for the first instalment made. The second and third instalment will be cancelled.
---


How do I know if my payment has gone through?
After you've successfully checked out, you will receive an email confirming your order. If you're still unsure of the status of your payment, please check your account via Shopback's mobile app.
Still need help? Please email our friendly customer service team at [email protected] for assistance.
---


I want to return a product and I used Shopback to pay. How much do I get in return?
The amount returned to you will be based on the original order placed. Please email our friendly customer service team at [email protected] for assistance.
Was this article helpful?